Renovated share house in November 2022. The concept is "Art x Downtown x Sea". near Mare, there are many large commercial facilities and it is very convenient. And it is a town with a downtown atmosphere where everyone from children to the elderly spend their time in a friendly atmosphere. Access is about 10 minutes by train from Kobe Station or Sannomiya.
 When dining, people naturally gather in the stylish and spacious living room on the second floor. There is also a simple kitchen on the first floor, so if you prefer to spend your time quietly, you can do so on the first floor. The kitchen is cleaned once a week, so you can enjoy a comfortable living environment.
 On the first floor, there is a studio of about 35 square meters. During the daytime, it is used by a nearby non-profit organization as a creative space, and at night and on weekends, it can be used for exercising. In addition, dance events are held every few months. The house inspires exercise and creativity.
Room
【共用部】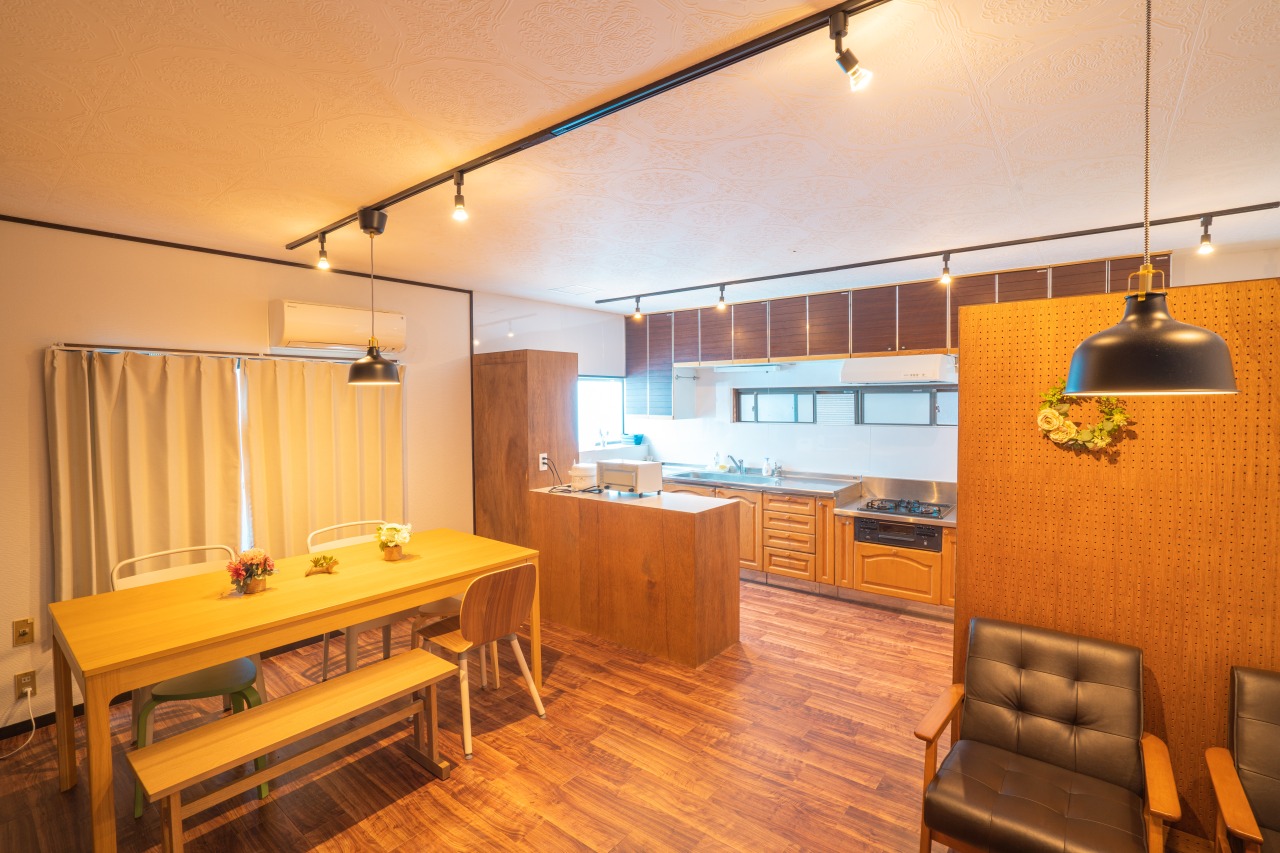 【Room】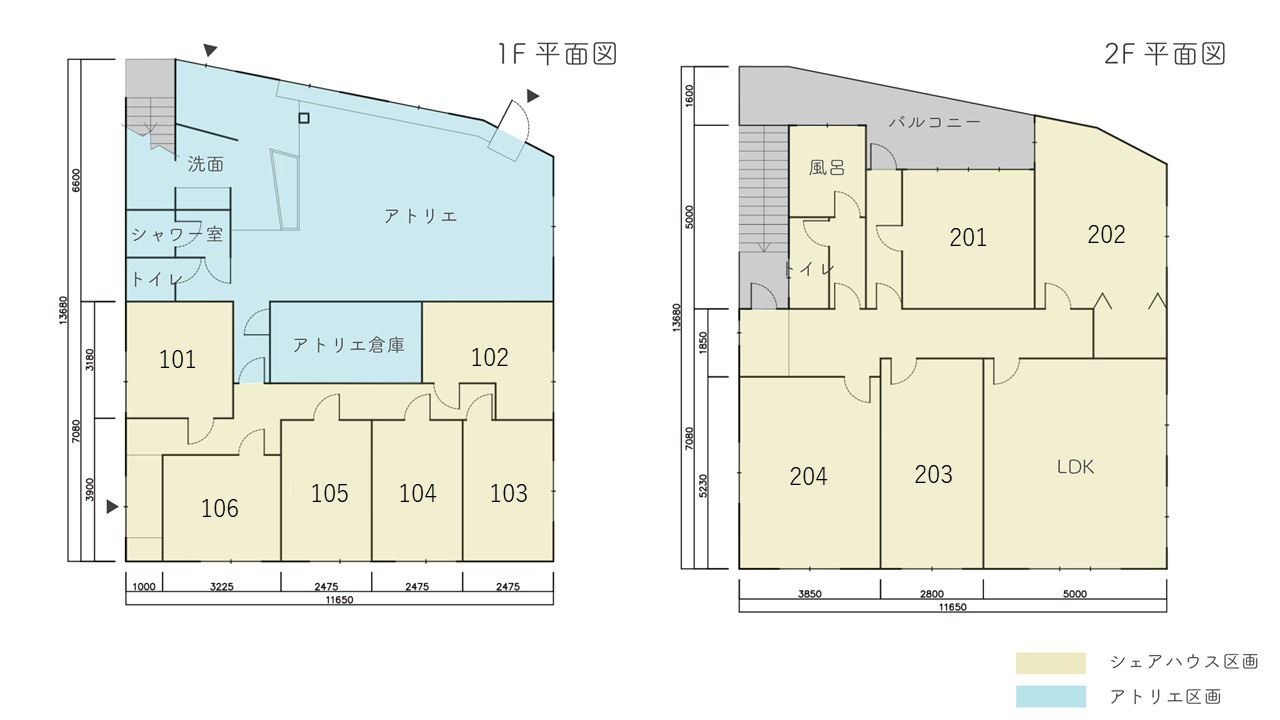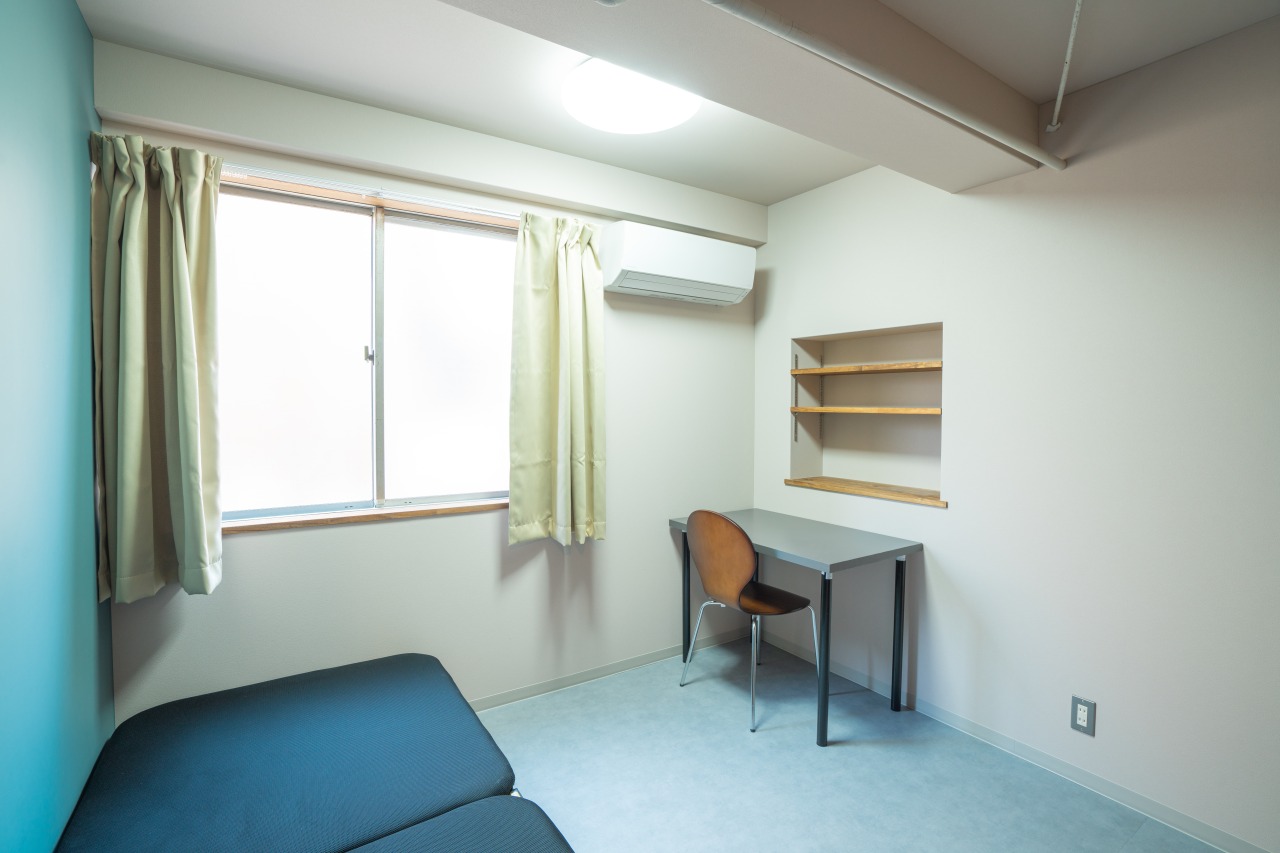 Rooms
| 部屋 | 広さ |
| --- | --- |
| 101 | 8.6㎡ |
| 102 | 9.0㎡ |
| 103 | 9.2㎡ |
| 104 | 9.0㎡ |
| 105 | 9.0㎡ |
| 106 | 9.0㎡ |
| 201 | 13.1㎡ |
| 202 | 17.5㎡ |
| 203 | 14.6㎡ |
| 204 | 18.5㎡ |
Address
Komagabayashi 4-16-6, Nagata-ku, Kobe City, Hyoho-ken
Access
5-minute walk from Komagabayashi Station, you can reach Sannomiya, Motomachi, and Kobe, the center of Kobe, in 10 to 15 minutes.
The station is reached via an arcaded shopping street, so even on rainy days, you can enjoy your trip. Suma beach is also about 2 km away.
Stores
Facilities in the area: The Taisho-suji Shopping Street, the largest shopping street in Nagata Ward, is a 4-minute walk away and has all kinds of stores, making it very convenient. There is also a library attached to the Shin-Nagata Godocho Building, which is a 7-minute walk away. There are also many public bathhouses in the area.
Requirements
15 years of age or older (Minors must sign a contract in the name of a parent or guardian) 
Regardless of gender
Foreigners welcome
Please present your ID (passport/resident card for foreigners) and emergency contact information when you move in. In addition, minors need parental consent form.
Facilities
Spacious dining and ample storage in common areas. Equipped with refrigerator, microwave oven, vacuum cleaner, washing machine and Wi-Fi. Each room is equipped with air conditioning, wooden desks and chairs, and hanger racks. Currently, only the 2nd floor is open, and the 1st floor with the atelier is scheduled to open in October.
Others
Management
Each share house has a caretaker to support your daily life. The management company cleans the rooms twice a month, but please be sure to clean the room each time you use it. Also, unlike share houses where the management company and owner are separate, this share house allows you to speak directly with the owner, so improvements can be made smoothly.
Event
Sharehouse events include welcome parties, farewell parties, fireworks, barbecues, etc., but many of them happen accidentally because of the common hobbies with sharemates. We recommend that you leave yourself in the flow with an open mind and try various things with your sharemates.
Cost
One of the advantages of a share house is the initial cost. The initial cost is only 11,000 yen. A desk, chair, and bed are also provided, so you can spend a reasonable price even during a short stay.
Friends
Family and friends are welcome to stay ♪ When you stay, please contact the common line group in advance. Please pay 500 yen per night. Family members and friends should also say hello to other sharemates. It is better if you have souvenirs for your sharemate.
Flow of moving
Those who wish to move in are kindly requested to have a preview including an interview. We want you to know the concept and atmosphere of each share house. Then, we will talk to you briefly and move in to those who thought "I want to live!" *Presentation is not mandatory for foreign residents.
1.Contact

2.Visit

3.Deposit payment

4.Determination of move-in date

5.Signing of contract, payment of monthly rent

6.Moving