Marche is a very convenient house located in a shopping district, a 30-second walk from a supermarket, close to a station on the JR and subway lines, large commercial facilities, restaurants, and many of Kobe's characteristic hot springs.The house was renovated from a midwifery center in May 2021 and has remnants in places.
The house has a computer room and a full-fledged co-working space "Sobani Omusubi" on the 1st to 3rd floors, and as a benefit for residents, the 1st floor area can be used free of charge. The wifi is provided by NURObiz, a high-speed fiber-optic line.
We hope that our tenants will make their goals come true step by step as they move forward in this hybrid house that can be used comfortably as both a place to live and a place to work.
▶MARCHE(1,2F) YouTube
Room
【Common Space】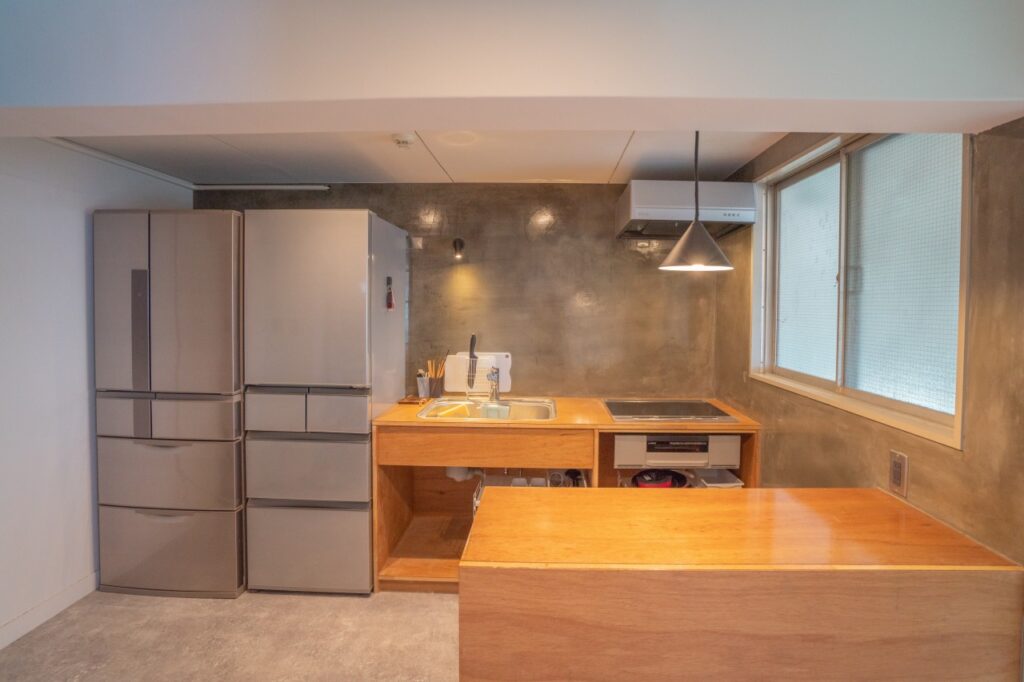 【Room】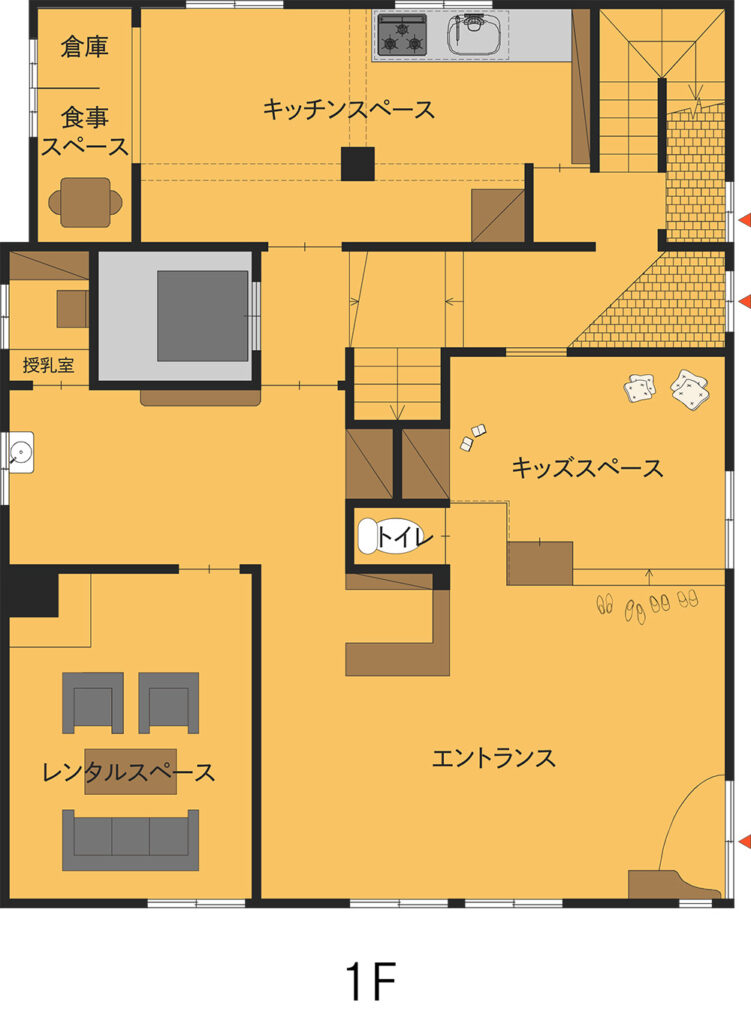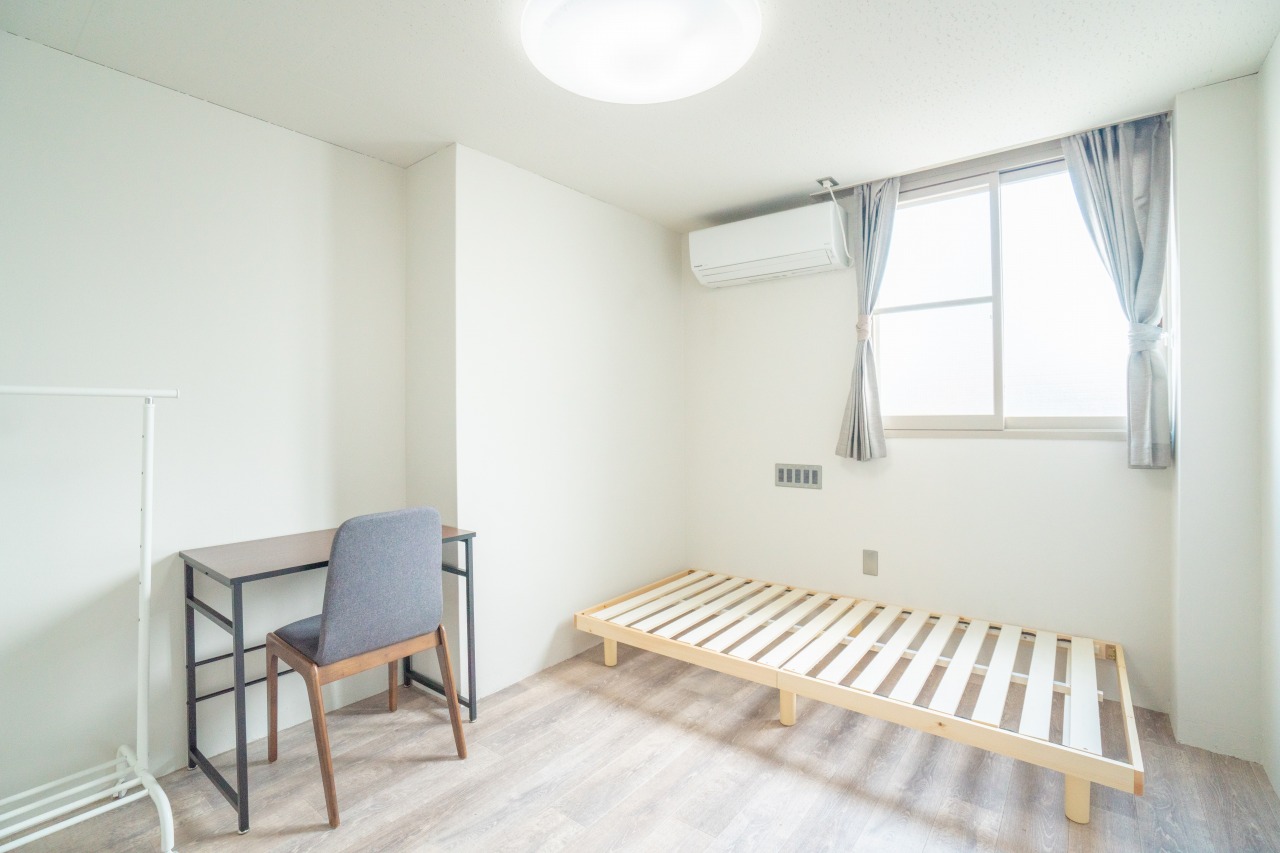 Rooms
| 部屋 | 広さ |
| --- | --- |
| 301 | 10.1㎡ |
| 302 | 7.2㎡ |
| 303 | 6.6㎡ |
| 304 | 11.9㎡ |
| 401 | 10.0㎡ |
| 402 | 7.5㎡ |
| 403 | 11.9㎡ |
| 404 | 9.4㎡ |
| 501 | 9.1㎡ |
| 502 | 9.1㎡ |
| 503 | 12.9㎡ |
Address
2-5-10 Futaba-cho, Nagata-ku, Kobe City, Hyogo
Access
Approximately 5 minutes on foot from "Komagabayashi" on the Kobe Municipal Subway Kaigan Line.
Approximately 9 minutes on foot from "Shin-Nagata" on the JR Line and Municipal Subway Seijin Yamate Line.
Approximately 15 minutes on foot from "Nishidai" on the Sanyo Electric Railway Line.
Peripheral information
It is located in the Honmachisuji shopping district, which is rich in fresh ingredients. There is a fruit shop, a local supermarket, a fish shop, and a butcher shop in front of you, so even those who are particular about food are very satisfied. The market is very busy every Saturday. The price is also very reasonable. There are plenty of restaurants such as coffee shops that have been vacant since early morning, specialty dishes from all over Asia, and okonomiyaki restaurants. In addition, there are many convenient shops such as the large home center "Agro Garden", the natural hot spring "Aguro no Yu", and Seven-Eleven, which is a 2-minute walk away.
Requirements
15 years of age or older (Minors must sign a contract in the name of a parent or guardian) 
Regardless of gender
Foreigners welcome
Please present your ID (passport/resident card for foreigners) and emergency contact information when you move in. In addition, minors need parental consent form.
Facilities / Equipment
Common area: Modern Japanese-style dining room / Rooftop with the best view / Kitchen where you can enjoy cooking. We have created an environment where it is fun to be alone and more fun for everyone.
Facilities include refrigerator / microwave oven (Healsio) / toaster / electric kettle / vacuum cleaner / washing machine / dryer.
Each room: Air conditioner / bed frame / desk / chair / hanger rack.
And above all, there is a privilege that you can use the common space of the coworking space on the lower floor for free, so it is recommended for teleworking etc.!
Others
Management
Each share house has a caretaker to support your daily life. The management company cleans the rooms twice a month, but please be sure to clean the room each time you use it. Also, unlike share houses where the management company and owner are separate, this share house allows you to speak directly with the owner, so improvements can be made smoothly.
Event
Sharehouse events include welcome parties, farewell parties, fireworks, barbecues, etc., but many of them happen accidentally because of the common hobbies with sharemates. We recommend that you leave yourself in the flow with an open mind and try various things with your sharemates.
Cost
One of the advantages of a share house is the initial cost. The initial cost is only 11,000 yen. A desk, chair, and bed are also provided, so you can spend a reasonable price even during a short stay.
Friends
Family and friends are welcome to stay ♪ When you stay, please contact the common line group in advance. Please pay 500 yen per night. Family members and friends should also say hello to other sharemates. It is better if you have souvenirs for your sharemate.
Flow of moving
Those who wish to move in are kindly requested to have a preview including an interview. We want you to know the concept and atmosphere of each share house. Then, we will talk to you briefly and move in to those who thought "I want to live!" *Presentation is not mandatory for foreign residents.
1.Contact

2.Visit

3.Deposit payment

4.Determination of move-in date

5.Signing of contract, payment of monthly rent

6.Moving
The above is the basic flow. We respond flexibly according to your situation.