MANONOMA, which develops cafes, galleries, farms, and English conversation classes under the theme of "connecting people with the city," will open a fully renovated women-only share house "HANARE The living room, which is a shared space, has a vaulted ceiling, and the kitchen and living room are fully renovated!
The living room in the shared space has a beamed ceiling to create a large space with the warmth of wood, allowing residents to live with a sense of freedom and peace of mind. With cafes, galleries, and fields right next door, you can live in an emotional downtown area with many private stores, providing a good stimulus for your senses.
It is a 12-minute walk from JR Shin Nagata Station, which has many commercial facilities, and an 8-minute walk from Karimo Subway Station. A monthly parking lot is adjacent to the house, so those with a car can also feel at ease. Why don't you start a new life in a stylish house in a good location? A new relationship between the town and the share house. Let's create it together.
【共用部】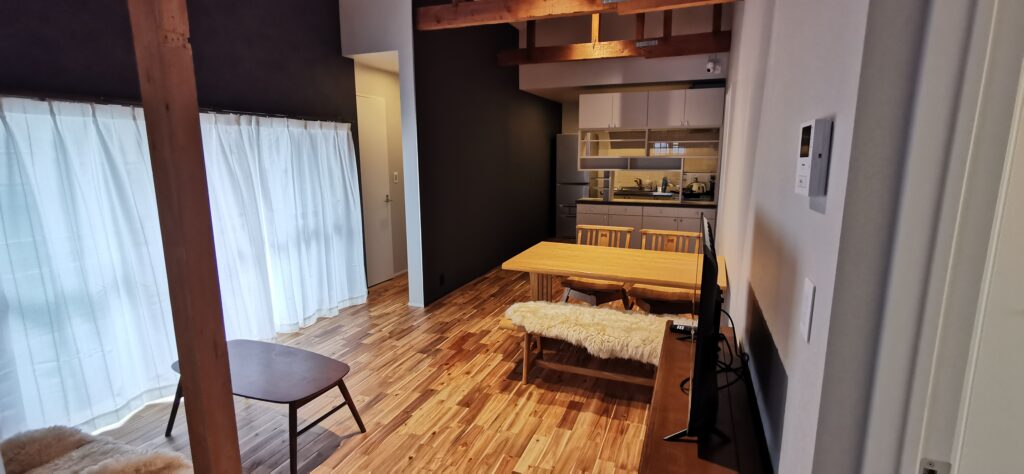 【Room】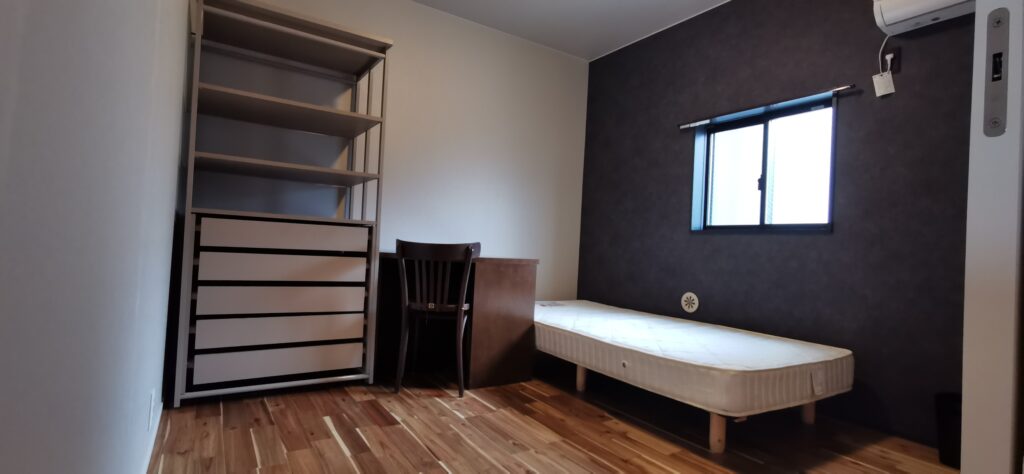 Rooms
| 部屋 | 広さ |
| --- | --- |
| 201 | 8.6㎡ |
| 202 | 8.3㎡ |
| 203 | 7.3㎡ |
| 204 | 11.3㎡ |
Address
2-3-10, Karimodori 2-chome, Nagata-ku, Kobe-shi, Hyogo
Access
Approximately 8 minutes on foot from "Karumo", Kobe Municipal Subway Kaigan Line
Approximately 12 minutes on foot from "Shin-Nagata" station on the JR Line and the Seishin Yamate Municipal Subway Line
Stores
Located a short distance from the busy Route 2. Family Mart is a 2-minute walk away, and MANONOMA-affiliated cafes and fields are a 30-second walk away. It is also a 10-minute walk to the AEON Nagata Minami Shopping Center. Aeon has all the stores necessary for daily life, including restaurants, supermarkets, and 100 yen stores.
Requirements
15 years of age or older (Minors must sign a contract in the name of a parent or guardian)
Women only
Foreigners welcome
When moving in, please present your ID (passport/residence card for foreigners) and emergency contact information. Minors must also have a parent or guardian's written consent.
Facilities
Common area: Refrigerator / Microwave oven / Electric kettle / Rice cooker / Vacuum cleaner / Washing machine / Dryer are available. Each room: Air conditioner / Bed frame / Desk and chair / Hanger rack.
Management
Each share house has a caretaker to support your daily life. The management company cleans the rooms twice a month, but please be sure to clean the room each time you use it. Also, unlike share houses where the management company and owner are separate, this share house allows you to speak directly with the owner, so improvements can be made smoothly.
Event
Sharehouse events include welcome parties, farewell parties, fireworks, barbecues, etc., but many of them happen accidentally because of the common hobbies with sharemates. We recommend that you leave yourself in the flow with an open mind and try various things with your sharemates.
Cost
One of the advantages of a share house is the initial cost. The initial cost is only 11,000 yen. A desk, chair, and bed are also provided, so you can spend a reasonable price even during a short stay.
Friends
Family and friends are welcome to stay ♪ When you stay, please contact the common line group in advance. Please pay 500 yen per night. Family members and friends should also say hello to other sharemates. It is better if you have souvenirs for your sharemate.
Flow of moving
Those who wish to move in are kindly requested to have a preview including an interview. We want you to know the concept and atmosphere of each share house. Then, we will talk to you briefly and move in to those who thought "I want to live!" *Presentation is not mandatory for foreign residents.
1.Contact

2.Visit

3.Deposit payment

4.Determination of move-in date

5.Signing of contract, payment of monthly rent

6.Moving